Wayfair Return Policy Explained
Wayfair has one of the most uncomplicated and customer-friendly return policies.
Most items bought from Wayfair can be returned within 30 days of delivery.
In this post, we have covered all the important details regarding the return of items on Wayfair. You can find the most prominent aspects of the Wayfair Return policy that will help you understand it in a much better way.
From the return procedures to the deductions and charges, you can learn about all you need to know in this article.
How to return an item to Wayfair?
To return an item to Wayfair, here are the steps you need to follow according to the Wayfair policy:
Log in to your account on Wayfair.com.

Navigate to the 'My Orders' section.

Proceed with the option to return under the item you want to return. 

Select the Refund method – Original Payment method or Store Credit refund.

Pack the item along with the accessories if any.

Ship the product to the return address UPS or FedEx. 
Wayfair provides a return shipping label that you can get printed.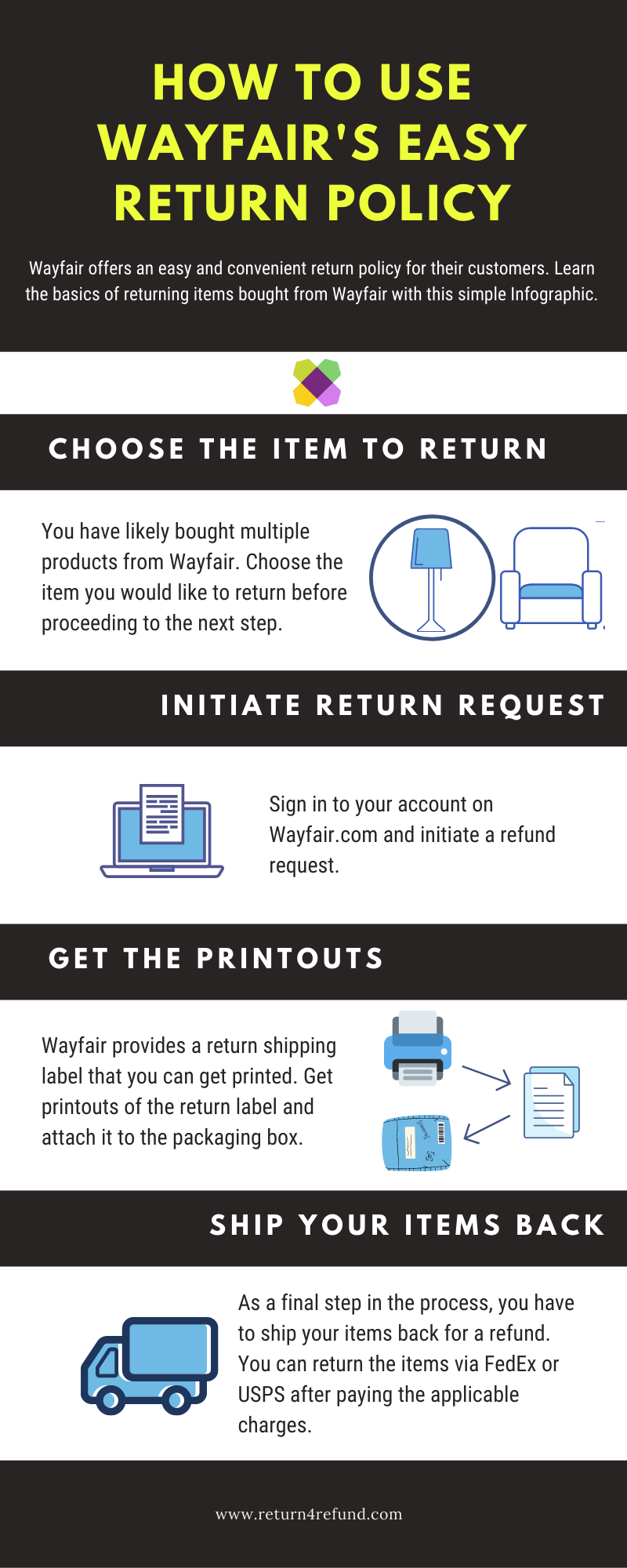 Non-Returnable Items
According to Wayfair return policy. there are some items that are non-returnable. Here is a list of such items:
Gift cards

Personalized items

Clearance items

Bundled items at discounted rates

Assembled items

Items marked "Non-Returnable"
Modified Return Policy
Wayfair offers a modified return policy for products such as mattresses and large appliances. 
Here is a brief detail of the features of each of these policies. Take a look.
1. Mattress Return Policy
Mattresses from Wayfair come with a 100-night free trial. This timeframe is provided to test the mattress and see if it is comfortable for you or not. Before the 100 nights get over, you can either exchange your mattress with a new one or get a free return and refund. 
2. Large Appliance Return Policy
Large products like home appliances are subject to a return period of 30 days from the date of purchase. For a smooth return process, you have to ensure that the appliance is not installed and kept intact with the original packaging. 
Extended Holiday Return Policy
In addition to the other return policies, there is the extended holiday return policy for items bought between the 1st of November and the 31st of December every year. The return period for purchase during this period is extended until the 31st of January.
Frequently Asked Questions
Does Wayfair offer free returns?
No, it is unfortunate that Wayfair does not provide free returns or exchanges. While returning or exchanging items, you have to bear the return shipping costs.
What if I get defective items in the non-returnable category?
Damaged or defective items have exceptions from the non-returnable rule of the Wayfair Return policy. You can either get them returned or replaced.
Wayfair refund policy
If you opt for a gift card or store credit refunds, it will be done within one business day.
If you choose the credit card refund, it may take up to 5 business days for the process to complete.
There are also other refund methods that take as long as two weeks to complete.