Hobby Lobby Return Policy Overview
Hobby Lobby is a private American arts and crafts chain of stores, previously known as Hobby Lobby Creative Centers.  
The Basics of Hobby Lobby return policy is simple and straightforward:
The timeframe for return, in case you are not happy with your something you bought at one of Hobby Lobby stores, is 90 days from the date of purchase.
This applies to stores online as well as to the physical stores.
According to the Hobby Lobby return policy, the items returned should be in a new condition and unopened.
Do you need to have the receipt with you?
It is better to have the receipt with you, as it will shorten the time it takes to trace your purchase and refund you accordingly.
You will also be requested to show your ID.
In case of a lost receipt, Hobby Lobby will make sure your returned product is in a new condition.
Providing that they approve of the return, you will get a credit for shopping in Hobby Lobby stores within the next 60 days.
Exceptions to the Hobby Lobby return policy:
There are only 2 exceptions to this policy.
These 2 product lines can be returned with a receipt only, otherwise, they will not be accepted and the return request will be denied.
Cricut items
Silhouette items.
Hobby Lobby Online Returns
In the case of Hobby Lobby, it is better to return an item to the stores, and not ship it back.
There are 2 reasons for that:
Hobby Lobby does not cover the shipping costs unless the reason for return is an error made by their side.
It takes 14 days to process any return.
In case you wish to return your products online anyway, these are the steps you need to take:
Visit the Hobby Lobby return form  & enter your order # and ZIP code.
Send the package back prepaid.
Hobby Lobby Exchange Policy
You can exchange goods purchased in-store or even online/
To exchange an item bought online, you need to email Hobby Lobby or call them at 1-800-888-0321 to make it happen.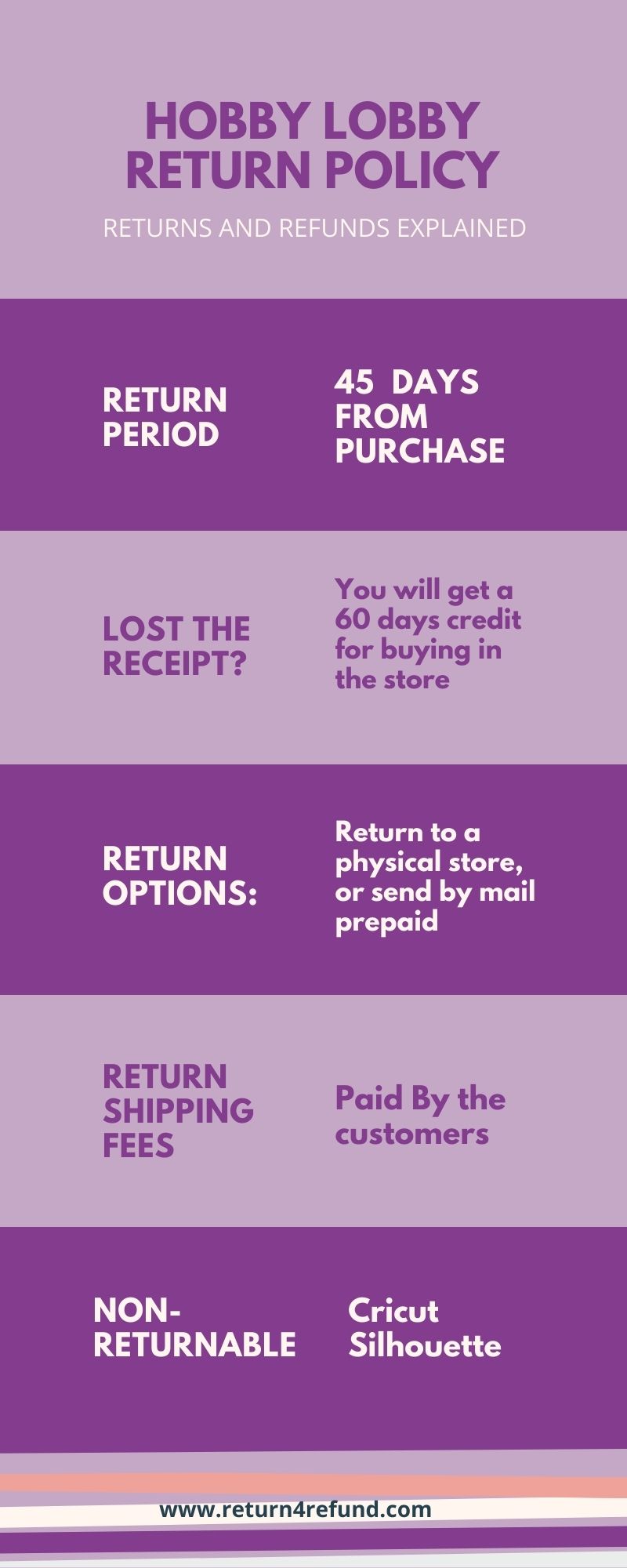 Hobby Lobby Refund Policy
According to the Hobby Lobby return policy, you will be refunded to the original payment method used at the time of purchase, as long as you have the receipt with you.
In case you do not have the receipt but goods are returned in a salable condition, you will get a 60 days credit to use at the stores.
In case you paid with a check, you will get cash instead.
However, in this case, you will need to wait 10 days before you get a refund.
An interesting fact you might not be aware of regarding Hobby Lobby:
The chain offers 14 days of price protection on every item you buy.
It means that in case you bought something in one of their stores and then find out that the price went down afterward, you are entitled to a full refund for the difference!
You can also follow their weekly savings section here