Nordstrom Return Policy Explained
If you are looking for information on Nordstrom Return Policy, you have come to the right place. In this article, we have covered the important details about this policy. You will find the key features of the policy without any complications.
There are some essential rules and processes that you have to follow in order to return a product or get a refund from Nordstrom. 
Nordstrom Return Policy Overview
The most significant feature of the policy is that there is no timeframe for returning or exchanging goods purchased from Nordstrom.
The returns are handled on a case-by-case basis.
To return or exchange an item that was bought from Nordstrom, all you have to do is bring the item to a nearby store with the original receipt and the credit card used during the transaction.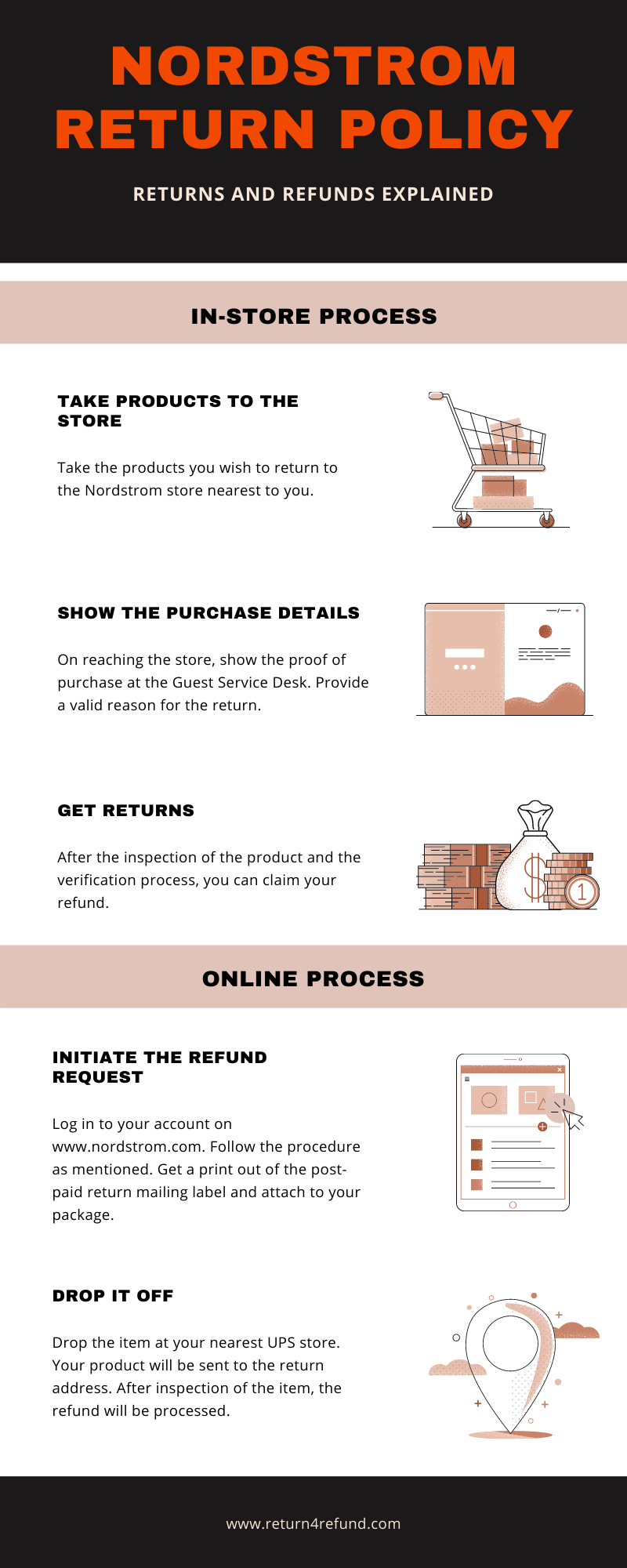 Return, Exchange and Refund Process
Nobody wants to keep a defective item. When it comes to returns and exchanges, Nordstrom has some straightforward guidelines for the process. You can return goods purchased from Nordstrom in two ways.
Return to store
Here are the steps to follow to return items to the Nordstrom store:
Locate the store nearest to you, by pressing this link

Carry the item you want to return along with the receipt.

Talk to a salesperson or the person at the Guest Service Desk. Give them a valid reason for the return.

Upon acceptance of the returned goods, the refund will be provided instantly.
Return via mail
To return items bought online, follow these steps:
Sign in to your account on Nordstrom.com.

Select the item to return from the Orders list.

Fill up the form stating a valid reason for return.

Get a print out of the post-paid return mailing label.

Place the item into the packing box and attach the label. 

Send it via mail. Once the item gets received by Nordstrom, the refund gets processed within 10-14 business days.
Frequently Asked Questions
Can I return an item without a receipt?
Nordstrom offers you the option for returning items even without a receipt. You can get a refund by providing other proof of purchase such as a packaging slip. In case you don't have one, Nordstrom will use your personal identification to process the return. The refund in such cases is provided in the form of a Nordstrom Gift Card.
How are the refunds credited?
The refunds for returned goods will be either credited to your original mode of payment or a Nordstrom Gift Card.
Who pays for shipping?
Nordstrom covers the shipping charges for returns. You can return any product for free if eligible for return.
Do I get a return for International purchases?
If you purchase the goods from outside the US or Canada, you may get a refund for the goods if you return it directly to Nordstrom.
However, there will be additional expenses such as customs duties and taxes as applicable for international transactions.