Before we dive into the unique and surprising Nordstrom Return Policy…
Did you know these facts?
Nordstrom started in 1901 in Seatle, Washington.
It was founded by Carl F. Wallin, and John Nordstrom.
At first it was a shoe store. Later it evolved into additional product lines.
John and Hilda Nordstrom were Swedish immigrants.
They had five children, three would continue the family business.
In 1971, the company was taken public on NASDAQ under the ticker symbol JWN
By 1975, Nordstrom expanded into Alaska.
As of 2021, Nordstrom operates 100 stores in U.S., and 3 Canadian provinces (entering the Canadian market in 2014).
One location in Puerto Rico was operating from 2015 through 2020.
Now back to the Nordstrom Return Policy:
How Many Days Does Nordstrom Allow For Returns?
The fact is that we have read so many return policies, that it's not easy to surprise us anymore.
However, the Nordstrom return policy is a pleasant surprise!
The most significant feature of the Nordstrom return policy is this:
There is no timeframe for returning or for exchanging Nordstrom items.
Yes, that's right.
The returns to Nordstrom are handled on a case-by-case basis.
There is no apparent timeframe for changing your mind once you purchased a Nordstrom item.
The Nordstrom return policy states the following:
"We will do our best to take care of customers and deal with them fairly; we ask that our customers treat us fairly as well. From time to time we may not accept a return. There are no time limits for returns or exchanges."
How Do I Return An Item To Nordstrom?
There are 2 ways to return an Item to Nordstrom:
Return to a store.
Return via mail.
Nordstrom Store Returns:
The Nordstrom return policy is very short and simple:
To return (or exchange) an item that was bought from Nordstrom, all you have to do is:
Locate the store nearest to you, by pressing this link

Carry the item you want to return along with the receipt.

Talk to a salesperson or the person at the Guest Service Desk. Give them a valid reason for the return.

Upon acceptance of the returned goods, the refund will be provided instantly.
Nordstrom Online Returns:
To return items bought online, follow these steps:
Sign in to your account on Nordstrom.com.

Select the item to return from the Orders list.

Fill up the form stating a valid reason for return.

Get a print out of the post-paid return mailing label.

Place the item into the packing box and attach the label. 

Send it via mail. Once the item gets received by Nordstrom, the refund gets processed within 10-14 business days.
(Continue below to learn about the Nordstrom refund policy)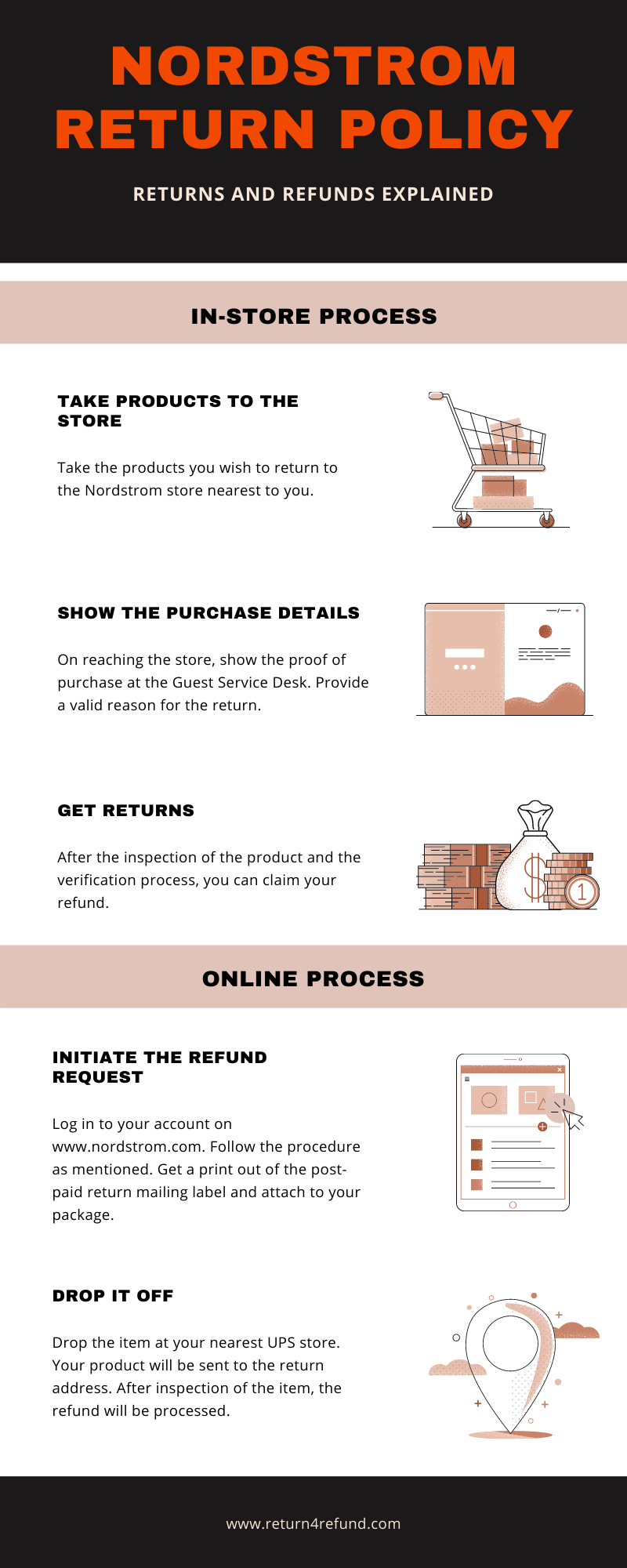 Nordstrom Refund – How Does It Work?
The refunds for returned goods will be either:
Credited to your original mode of payment

Credited through a Nordstrom Gift Card.
If the purchase was made via PayPal, the refund will be credited to the same PayPal account.
I Lost My Receipt. Can I Return My Order?
The answer to that is – Yes.
Having your receipt will help trace your purchase in Nordstrom's database faster.
However, if you can't find it, in most cases the Nordstrom customer service should be able to find the purchase in other ways.
The Nordstrom return policy is so decent, that in case there will not be any record of the sale, Nordstrom might chose to provide you with a refund anyway.
In this case they might ask you for your government ID in order to process the return.
The return in this case (of a none-identified purchase) will be provided:
At current product's price.
On a Nordstrom Gift Card.
Nordstrom Return Policy – Are The Returns Free?
The answer is – Yes.
If you decide to return your order to Nordstrom, Nordstrom will cover the shipping charges.
You can return any product for free if it is eligible for return.
International Orders Return Policy – How Does It Work?
The international Nordstrom.com orders (Outside Of the U.S. And Canada) have a different return policy.
The main difference is that they do not qualify for free returns, nor for for products exchanges.
In case you need a refund for an international order (that includes duties and taxes), you should contact the Nordstrom customer service and ask them to mail you a Borderfree Return Merchandise Authorization form.
Then mail the completed form with your item(s) to Borderfree.
You might choose to return an international order directly to Nordstrom, however:
In this case you need to be aware that you will receive a refund for the returned product from Borderfree, but you will not receive the paid duties/taxes and/or tariffs.