Bloomingdale's Return Policy Explained
Bloomingdale's return policy Overview
Like other top departmental stores all over the USA, Bloomingdale's is quite famous for its generous return policy.
Most of the purchased items can be returned within 365 days if required, as long as they are in a new condition.
Bloomingdales Returns – Product Categories
According to the company policy, there are various ways to return the items, depending on the type of item you purchase. 
Bloomingdales Area Rugs returns
You will get 14 days to return the purchased rugs from the date of purchase.

Bloomingdale's offers refunds or credit and sometimes offers exchanges on area rugs.
Bloomingdales Bonus Gift returns
If you have purchased any product with Bloomingdale's bonus gift and want to return it:
Return both the Bonus Gift along with the products.

Keep the bonus gift and Bloomingdale's will automatically deduct the bonus gift amount from the refund.
Bloomingdales Dresses returns
Among all other apparels available, some dresses are returned with the "b-tag" attached to it. You cannot return the item if the tag is misplaced or damaged. Apart from this, here are some points that you need to know before returning a dress:
You cannot return a dress that has been washed.

You cannot return the clothes if you have worn them.

You cannot return any altered or stitched dresses.
Bloomingdales Furniture returns
Here are some of the return policies if you have bought furniture from Bloomingdale's:
You have to return the furniture within three days of your purchase.

While returning, the furniture should be in the original condition and without any defects or damage.

The delivery charged for the pick will be deducted from your refund.
Bloomingdales Gift Card returns
If you want to return gift cards purchased from Bloomingdale's, you need to visit your nearest store and collect a refund. The store representative will quickly process your request, and you will get a refund within two to three business days.
If any third party has already claimed the amount, the refund process might delay more than usual.
Bloomingdales Mattresses returns
You are allowed to return any mattress that you have purchased from 365 days of the billing date. The standard pickup fee is $110 and if any manufacturing defect is found, the total price gets refunded to the users' accounts.
Bloomingdale's Returns Process 
According to the current Bloomingdale's return policy, There are currently two ways to send your products back to Bloomingdale's. 
Return items by Mail.

Return items directly to the store.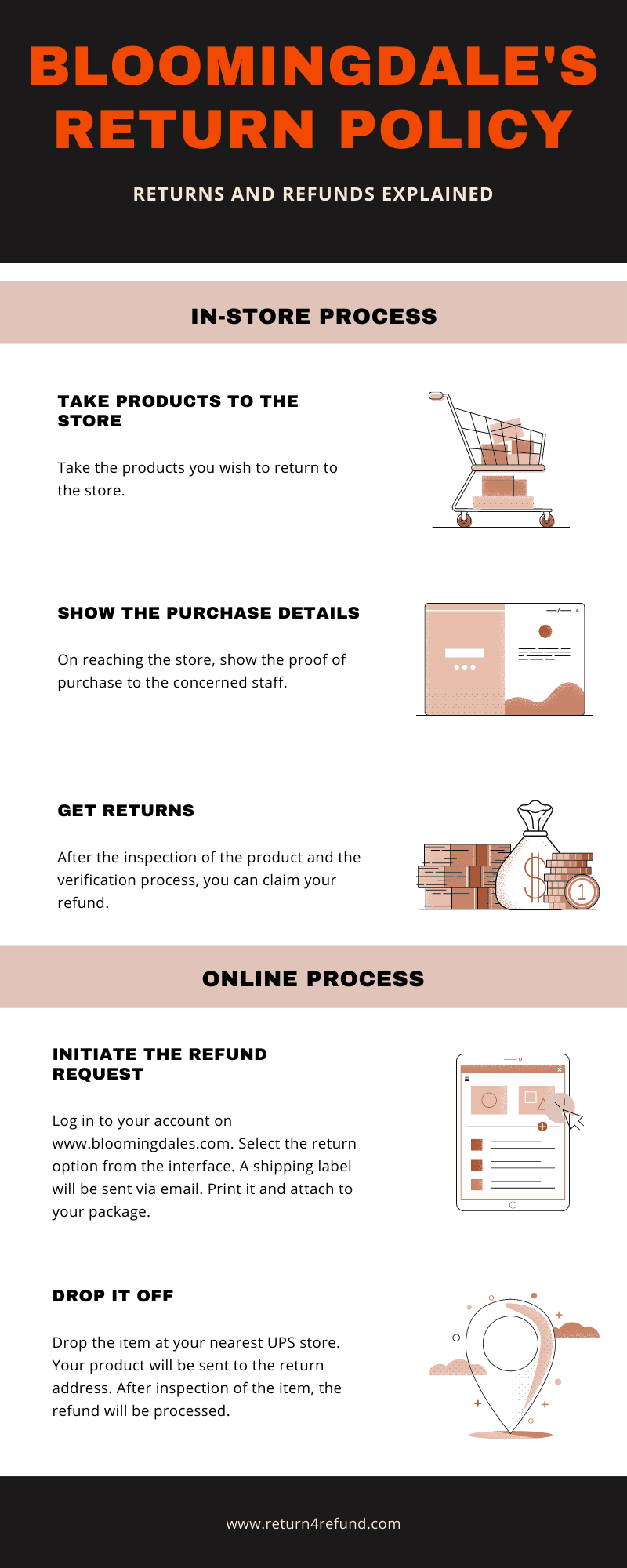 Following these steps, you need to take to complete your return successfully.
Return by Mail
Print the order shipment confirmation page and shipping labels.

Pack your product with original packaging and paste the return slips.

Take your products and drop them in the nearest USP.
Return to Store
Take your products to the store.

Provide a valid proof of purchase.

Claim your refund.
Bloomingdale's Refund Policy
A full refund is available according to the return time and form of payment.
Returns within 90 days of purchase:
These will be refunded to the original form of payment.
Returns within 91-365 days of purchase:
These will be issued a merchandise credit only.
Bloomingdale's Online Return Policy
Bloomingdale's offer free returns on online orders.
To conclude, Bloomingdale's return policy is customer-friendly, making buying online easy reassuring.