Before we explain the Target electronics return policy, here are some Target facts you probably didn't know:
With 1909 stores, Target operates in all 50 U.S. states.
Approximately 75% of the U.S. population lives within 10 miles of a Target location.
There are 350,000 employees at Target
The Target tagline is "Expect More. Pay Less." is used since 1994
The Target Corporation also owns Shipt and Roundel.
The first Target store opened in 1962 under The Dayton Company in Minneapolis, Minnesota, and it's headquarters is still there today!
Target Electronics return policy:
There's one important fact to consider about Target electronics return policy, and that is:
The general Target policy differs between various products and brands, therefore you'd better be aware of the return conditions when buying a Target product.
It means that you shouldn't expect the Target electronics return policy to be identical to the Target return policy for owned brands, for example.
Which makes sense. Imagine returning a laptop after a year… No retailer allows that.
I Changed My Mind About My Target Order. What Do I Need To Do?
Target requests that the returned items will be new and unopened, with a packing slip or proof of purchase.
How Long Do I have to Return a Target Item?
Most products purchased at a Target store or on Target online can be returned and refunded (or exchanged) within a timeframe of 90 days.
I heard that Target has a 1 Year Return Policy! Is That True?
Well, yes it is…
The surprising fact in Target return policy is that for Target's owned brands, Target's return policy extends to 1 year!
Which is amazing.
It means that if you are not satisfied with the item that's included in the brands' list, you have 1 year to return it.
Here's the full updated list of Target's owned brands.
I Want To Return An Electronic Item. What's The Target Electronics Return Policy?
Target electronics return policy (and entertainment products) is not 90 days, but 30 only.
However, Mobile phone returns or exchanges must take place within 14 days of the date of purchase (or online order pickup).
All Apple® products, excluding mobile phones, must be returned within 15 days from the purchase date.
Are There Any Other Exceptions To Target Return Policy?
Yes.
Beauty items: Most beauty items can be returned or exchanged, opened or not opened, within the timeframe of 90 days with your receipt or 120 days if you bought it with your Target Red card.
Open and/or defective collectibles (such as sports cards, porcelain dolls, other dolls such as special edition Barbie dolls, action figures, etc.,  cannot be returned.
Open airbeds are non returnable, but can be exchanged for a similar item.
Other items that are non-refundable, but can still be exchanged are:
Movies
Video games
Opened software
Personalized items & digital downloads cannot be returned.
Can International Target Items Be Exchanged?
Returns or exchanges of items bought internationally will not be accepted, including online purchases.
Can I Return A Target Item Without It's Tag?
If you lost the returned product's tag, you can still return it, with its receipt.
Can I Return Gift Cards?
No, Mobile cards and all gift cards cannot be returned.
Target Return Without Receipt – Will I be refunded?
Can't find the receipt? Don't worry about it.
In case you can't find the returned item's receipt, Target return without receipt policy is friendly and will not prevent you from being refunded.
Your proof of purchase will be searched for in-store.
In most cases, you will be issued a refund even if the lookup will end with no result.
However:
In the Target return without receipt case, you might be refunded with a sum that is less than the amount you paid.
The refund price in case of a Target return without receipt will be calculated based on the lowest price of the item in the last 60 days.
Target Online Returns: I bought An Item Online, Can I Return It To A Physical Store?
Yes.
The Target online returns policy is as friendly as the rest.
Most items ordered on Target.com may be returned to any Target store near you, with the receipt as well as with the barcode.
The barcode is in the Target app, on the package, or in the shipping confirmation.
In case an item is non-returnable by mail and can only be returned to a store, (such as in case of hazardous chemicals),  this will be indicated in the shipping & returns section on the product details page.
How Do I Return a Large Item To Target?
Some large items, (furniture and electronics for example) may be eligible for Target return pickup.
In case you want to check if your item belongs to this category, please call Target.com Guest Services at 1-800-591-3869 with handy purchasing information.
How Is Target Refunds Process Working? When Will I Be Refunded?
Target refunds process is very clear.
The Target refund will be done automatically to the original form of payment you used.
Refunds to a Target RedCard typically take 1-2 days, and to a 3rd party card it may take up to 3 days.
It might take up to 5 business days to process items returned to the Online Return Center.
For in-store returns, you may ask for a different refund option as below: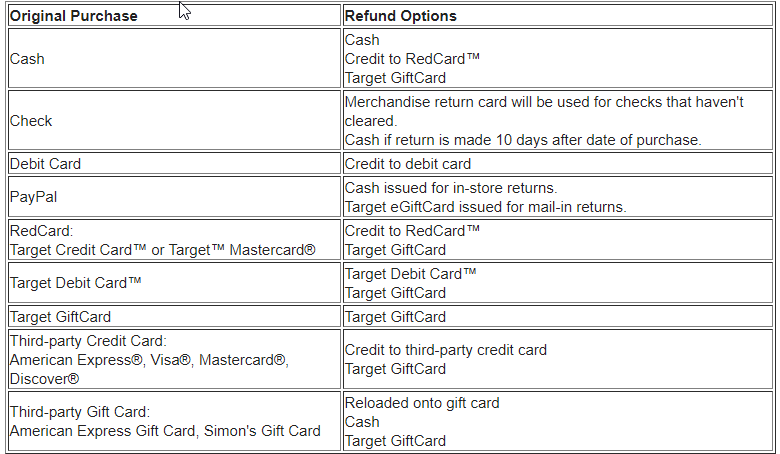 Are Target BOGO Promotions Refunded?
Yes. the promotional discount is based on the lowest-priced item, then applied to each item proportionately.
If you want to return any of the items purchased as a part of a BOGO promotion, the refund you get will be reduced to the discounted amount for each item.
Are Target Paying For Returns?
That depends on the reason for the return.
In case the return was declined by the online return center, or the return was not due to an error by Target, Target will not cover the shipping charges.