Walmart Electronics Return Policy Overview
Returning a product purchased from online or offline stores is very common.
While the laws and regulations regarding the returns are laid down in the companies' return policies, it is not easy to go through so much information and retain it.
To add to it, the return policies for each retailer is different.
This makes it crucial for you to understand the general and essential points without getting into the unnecessary details of return policies.
In this post, we have explained Walmart Electronics return policy and answered some of the most commonly asked questions regarding the return of electronic items to Walmart stores. 
Walmart Electronics Return Window
The return of electronic items to Walmart needs to be done following specific time frames.
There are different return windows for different items.
Most of the new Electronic and Refurbished Electronic Items can be returned within 90 days of purchase.
These items include DVDs, Blu-ray discs, and video games.
One thing that you have to make sure for an electronic item to be eligible for return is that they are left unopened. 
Walmart Electronics Return Policy Exceptions:
Besides the items listed above, there are many different items that fall under different return timeframes.
Items with a 30-day return window
3D printers

3D printer supplies
Items with a 15-day return window
MP3 players

Video game hardware (including pre-owned or refurbished)

Tablets

Printers (not including 3D printers)

Portable video players

GPS units

Pre-paid cell phones

Laptop computers

Desktop computers

Drones

E-readers

Activity trackers

Digital cameras

Camcorders
Items with a 14-day return window
Post-paid cell phones
Which items are not eligible under the Walmart Electronics Return Policy?
Many electronic items are not eligible for return when bought from Walmart. Here are some of them:
Video game download cards

Software received through eDelivery

Intimate massagers (including unopened ones)

Anything with an electronically fulfilled PINs

Prepaid cell phone minutes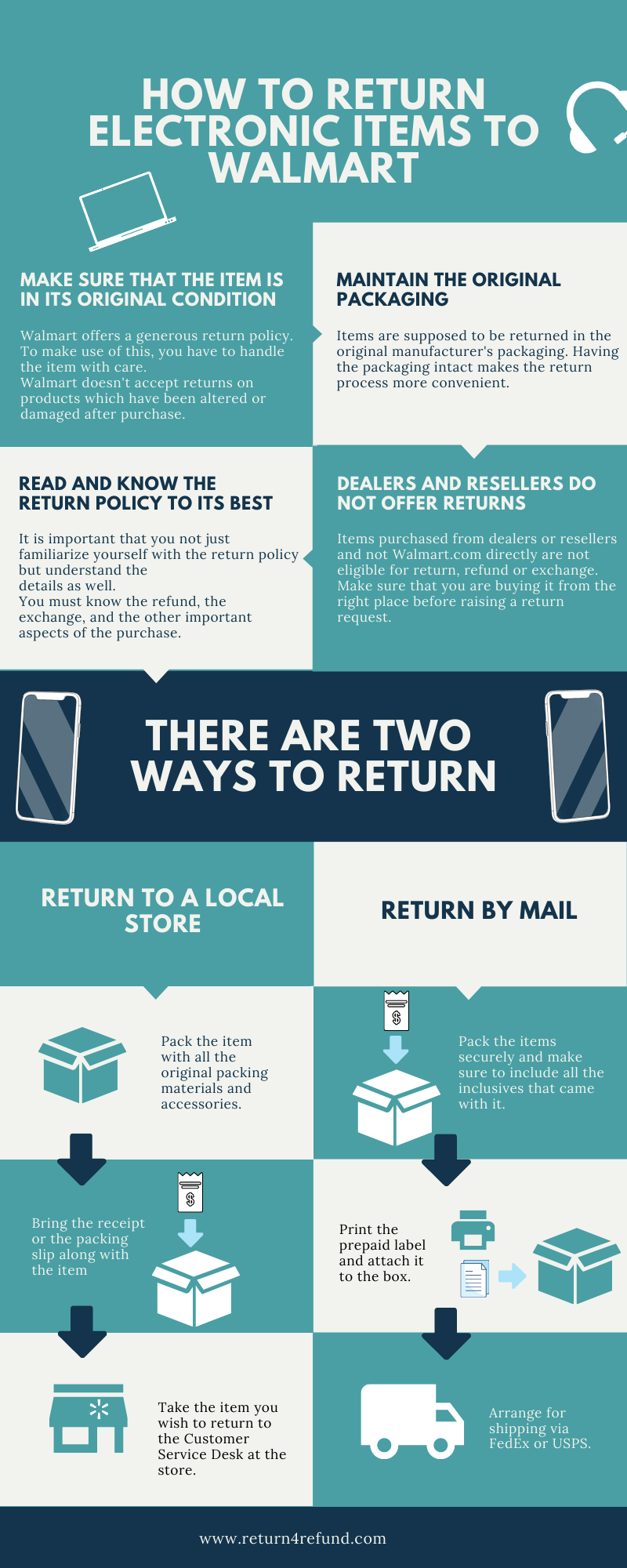 What is the Refund Process?
In most cases, your refund on the product returned depends on how you made the purchase. Make sure to have the receipt with you for a hassle-free return process.
Purchase via cash or check
In case you bought the item in cash or check and you have the receipt for it, you can get your refund in cash. 
Purchase via Credit card
Items purchased with Credit cards are not eligible for cash refunds. The money can either be sent back to the same card or transformed into a Walmart gift card.
Purchase via Debit card
For cash refunds for purchases made through Debit cards, the receipt should have "debit tend" mentioned on it. In other cases, the money gets sent back to the same card or transformed into a Walmart gift card.
In case you don't have a receipt for the purchase, you might have to settle for a Walmart gift card. However, you can get a cash refund if the value of the item is under $25.
Walmart's Holiday Extended Return Policy
Walmart offers an extended return policy for the holiday season every year. This return policy is applicable for specific items bought between Nov. 1 and Dec. 24. On the purchase of items under the short return window, the return window starts from Dec. 26.