Walmart Return Policy Explained
Walmart Return Policy Overview
If you have seen the Return Policy of Walmart, you must have been overwhelmed by the sheer length of the policy.
It's not convenient for customers to go through so many pages of content just to get a little bit of information.
Worry not, as we have done the work for you and come up with the main points that you should know.
When you go through this article, you will learn about the key features of Walmart Return Policy and save yourself a lot of time in the return process. 
As per the Return Policy, you can return most items bought from Walmart within 90 days of purchase.
For a successful return, make sure that the product remains in its original condition with the price tags and packaging intact.
In case you don't have the receipt for the item, you have to follow a different set of rules.
The return policy does not apply to products that are marked as "non-returnable".
Walmart Return Process Overview
To help you understand the process of returns, we have created this infographic which shows you exactly how you can return goods purchased from Walmart.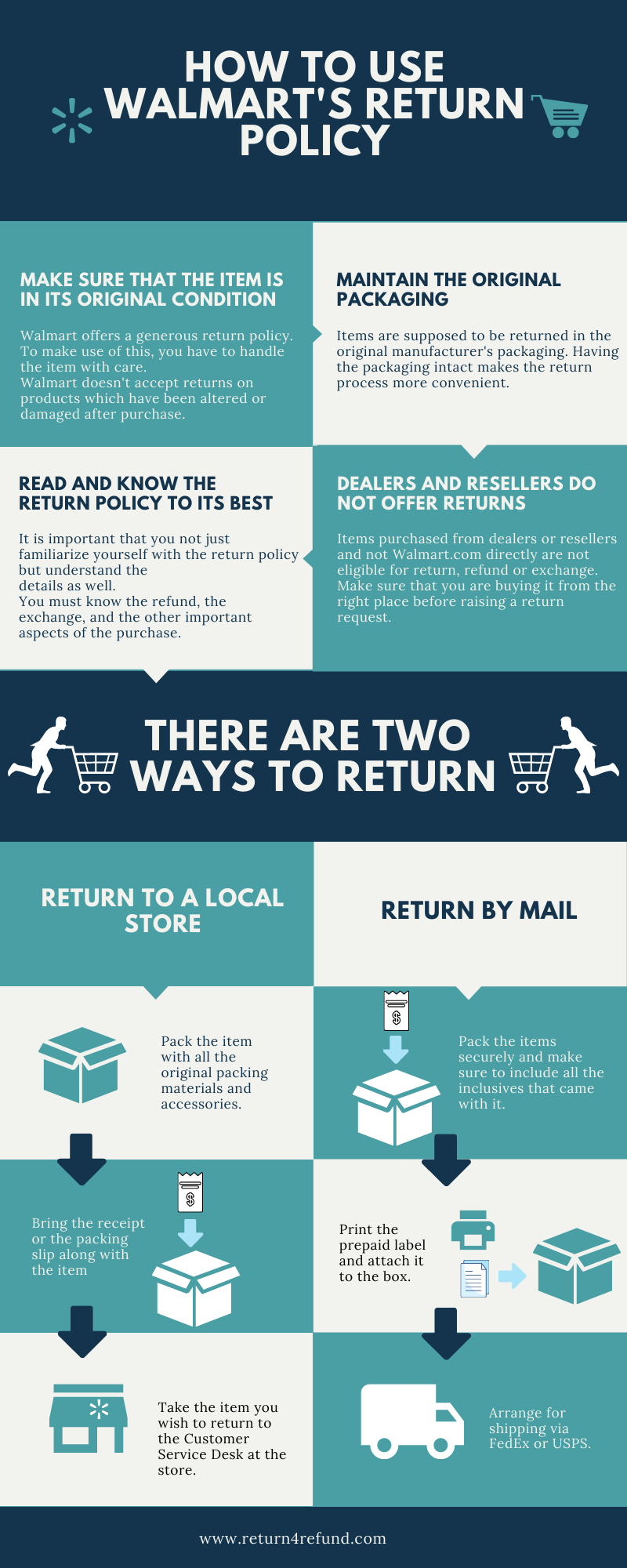 Walmart Return Policy Exceptions 
The 90-day return policy of Walmart applies to a lot of products.
However, there are many other items which are not covered under this policy.
There are items which have a return period of more than 90 days, and there are items which have a return period of fewer than 90 days. There is also a separate policy for items purchased between October 28 and December 25.
Items with 14-day return window
Post-paid cell phones
Items with 15-day return window
Electric Scooters.

Computer hardware.

GPS units.

Hoverboards.

Printers.

Refurbished video games.

Activity tracker.

Digital music players.

Tablets.

Camcorders.

Smartwatches.

Digital cameras.

Drones.

Personal Computers.

Prepaid cell phones.

Portable video players.
Items with 30-day return window
Air conditioners

Pressure washers

3D Printer accessories

3D Printer

Dehumidifiers

Generators

Evaporative Coolers
Items with 60-day return window
Prescription Glasses
Items with 1-year return window
Bulbs

Annuals

Perennials

Foliage

Trees

Plants including Shrubs
Walmart return policy for items bought between October 28 and December 25
Walmart offers extended return timeframes for items which are purchased in the winter holiday season. Here is the return timeframe for each category:
For items under the 15 days return category – until 10th of January
For items under the 30 days return category – until 25th of January
For items under the 90 days return category, the return period remains the same as it already covers the winter holiday season.
Non-returnable items
There are some items that are excluded from this Return Policy. These items include:
Warranty Service

Software delivered by email

Video on Demand

Mobile recharge
Walmart return policy – Frequently Asked Questions
Can I return an item to Walmart without a receipt?
As long as you return the product within the specified timeframe, you can get the refund without any worries. 
Can I return something to Walmart if opened?
No, you cannot return items to Walmart if opened. You may have the option to exchange it with another product.
Can I return a Walmart item to any Walmart store?
Yes, you can return an item bought from a Walmart store to any other Walmart store.
How will I be refunded according to Walmart return policy?
In most cases, the refund will be applied to your original payment method.
Paid in cash/check? You'll be refunded in cash.
Paid by Credit card? The refund will be issued to your credit card used for the purchase. If you can't present the original credit card, and the purchase cannot be traced, you'll be refunded on a Walmart shopping /gift card.
Paid with a gift card? The refund will be put back on your gift card immediately upon completion of the return process. Note that it's important that you keep your gift card until you are positive you want to keep the items you purchased with the card.
For different stores return policies visit www.return4refund.com