Target Return Policy
Target Return Policy Overview
The Target return policy indicates the importance that Target sees in great customer service.
In fact, Target is one retailer that goes the extra mile for satisfied customers, as you will see below.
Most products purchased at a Target store or on Target online can be returned and refunded (or exchanged) within a timeframe of 90 days.
These items should be new and unopened, with a packing slip or proof of purchase.
Opened items can be returned as well, with some exceptions that will be detailed below.
The detail that most people are not aware of, one that makes THE difference, is this surprising fact in Target return policy:
If the returned item belongs to Target's owned brands, Target's return policy extends to 1 year!
In other words:
If you are not satisfied with the item that's included in the brands' list, you have 1 year to return it, which is extraordinary.
There are some exceptions to the Target return and exchange policy.
The exceptions in Target return policy
Target's owned brands: There are almost 60 brands and collections that you can return within a year (365 days) of purchase date, and not within 90 days as most items.
This is the full updated list of Target's owned brands
Other exceptions in Target return policy:
Beauty items: Most beauty items can be returned or exchanged, opened or not opened, within the timeframe of 90 days with your receipt or 120 days if you bought it with your Target Red card.
The return policy for Target electronics and entertainment products is not 90 days, but 30 only.
A list of items is non-refundable. these are the items: Movies, Video games, Opened software. these however may be exchanged.
Open airbeds are non-returnable, however, may be exchanged for a similar item.
Personalized items & digital downloads are non-returnable.
Mobile phone returns or exchanges must take place within 14 days of the date of purchase (or online order pickup).
All Apple® products, excluding mobile phones, must be returned within 15 days from the purchase date.
Open and/or defective collectibles (such as sports cards, porcelain dolls, other dolls such as special edition Barbie dolls, action figures, etc.,  cannot be returned.
Target returns/exchange policy FAQ's:
Can international items be exchanged?
Returns or exchanges of items bought internationally will not be accepted, including online purchases.
Can I return an item without its tag?
If you lost the returned product's tag, you can still return it, with its receipt.
Can I return gift cards?
No, Mobile cards and all gift cards cannot be returned.
Target return no receipt policy:
Can't find the receipt? Don't worry.
In case you can't find the returned item's receipt it will be searched for in-store with your credit card and in most cases, you will be issued a refund even if the lookup will end with no result.
However, in the no-receipt case, you might be refunded with a sum that is less than the amount you paid, since the refund price will be the lowest price of the item in the last 60 days.
Can I return an item I purchased at Optical, Pharmacy, or  Starbucks to the Target store?
No, in case you want to return an item you purchased at one of the above you must return it or exchange it in the same areas.
Target Online Returns: If I buy an item online, can I return it to a physical store?
Most Items ordered online on Target.com may be returned to any Target store near you, with the receipt as well as with the barcode.
The barcode is in the Target app, on the package, or in the shipping confirmation.
In case an item is non-returnable by mail and can only be returned to a store, (such as in case of hazardous chemicals),  this will be indicated in the shipping & returns section on the product details page.
How do I return a large item to Target?
Some large items, (furniture and electronics for example) may be eligible for Target return pickup.
In case you want to check if your item belongs to this category, please call Target.com Guest Services at 1-800-591-3869 with handy purchasing information.
Target Refunds Policy
In most cases, the refund will be done automatically to the form of payment you used.
Refunds to a Target RedCard typically take 1-2 days, and to a 3rd party card it may take up to 3 days.
It might take up to 5 business days to process items returned to the Online Return Center.
For in-store returns, you may ask for a different refund option as below: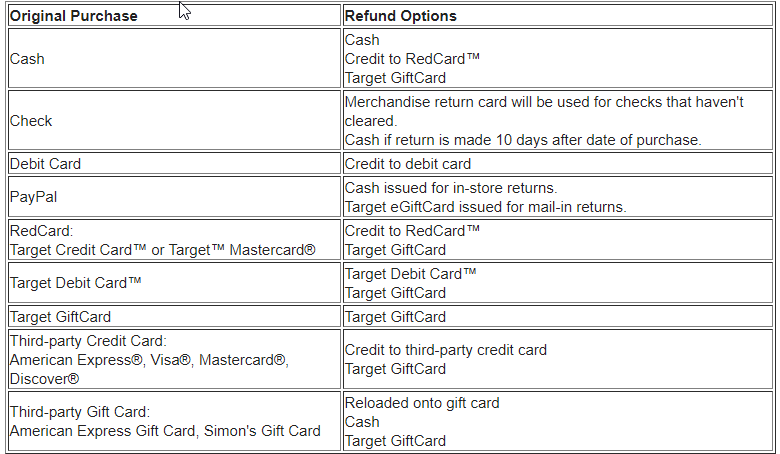 I bought an item as a part of a BOGO (Buy One Get One) promotion. Can I be refunded?
Yes. the promotional discount is based on the lowest-priced item, then applied to each item proportionately. If you want to return any of the items purchased as a part of a BOGO promotion, the refund you get will be reduced to the discounted amount for each item.
Target returns – shipping Charges
That depends on the reason for the return.
In case the return was declined by the online return center, or the return was not due to an error by Target, Target will not cover the shipping charges.