Kohl's Return Policy Explained
Kohl's is a large American department store with a great presence of more than 1150 locations throughout America.
As such, it's nice to know that Kohl's product return policy is one of the easiest policies we've encountered.
In fact, Kohl's call their return policy "hassle-free".
Kohl's return policy Highlights:
It is not a common practice amongst many retailers, but most items can be returned to Kohl's in a timeframe of 180 days from the purchase date.
The main exception in this policy concerns Kohl's premium electronic products:
These products can be returned to Kohl's in a shorter period of time – specifically 30 days, and require the original package as well as the valid purchasing receipt or account lookup.
In addition, there's a special holiday return policy that will be explained below.
How to return an item to the Kohl's store?
According to Kohl's return policy, there are two ways you can return items to the stores.
Return in store items to Kohl's:
Items purchased in stores can be returned to any of the Kohl's store locations. These items cannot be returned by mail.
Return Kohls.com items:
Items that were purchase online on kohls.com can be returned one of two ways:
Physical return to each of the many Kohl's stores
return the products purchased by email.
How to return a product to Kohls without a receipt:
In case a receipt is not found:
The store will try to locate the purchase in the Kohl's ss database, to process a refund.
If the purchase cannot be located, Kohl's has a unique process of a non-receipted return.
In this case, Kohl's return credit will be based on the lowest discounted 13-week sale price for the returned product for most returns.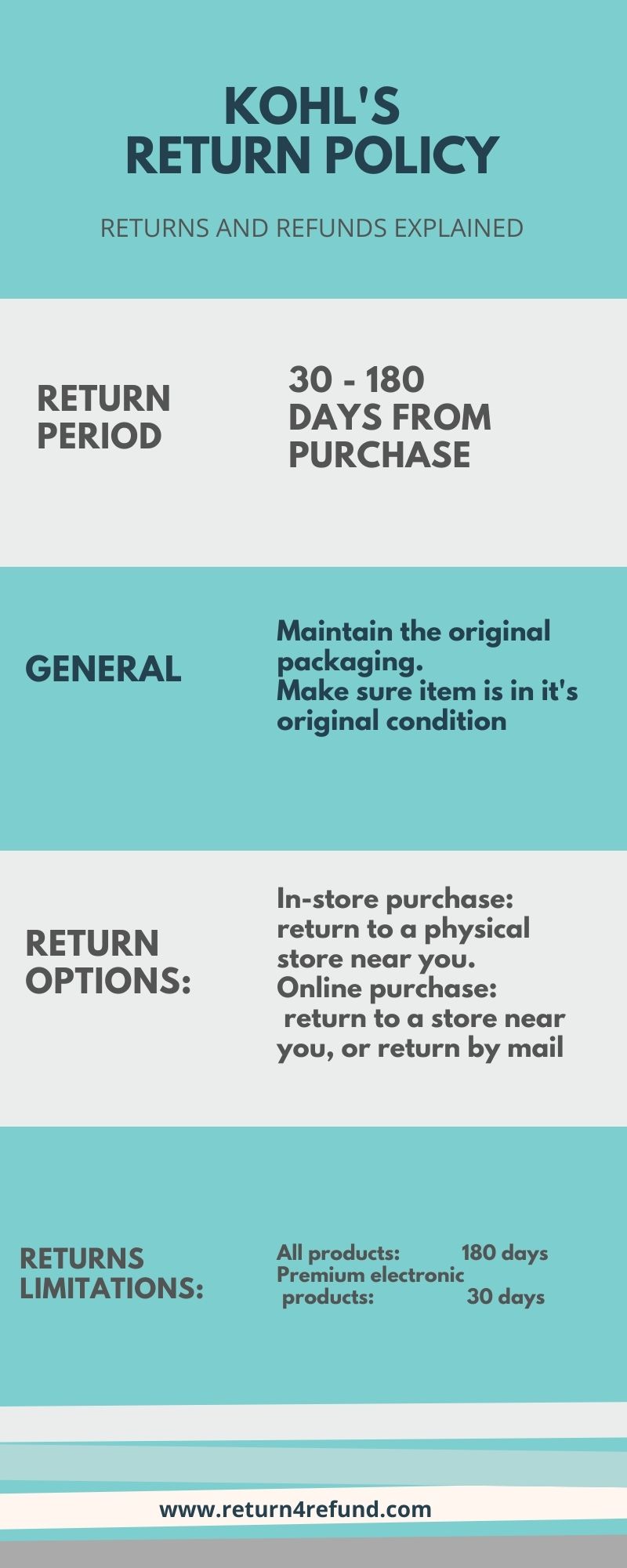 Kohl's certified partner's products return:
Kohl's partnered with certified brands and sellers. In case you want to return a certified partner's product to Kohl's, there is no problem.
The return policy is the same as every Kohl's.com product:
either return purchase to one of the stores near you, or return by mail:
Re-package the product.
Add the original packing slip/shipping label:
Drop off your return at your nearest shipping center.
Quick return:
A Quick Return is a return process that you can start on Kohl's App.
Once logging to the app, select the orders section and find your order, or scan the in-store receipt.
The quick return is available only in selected stores, therefore you will need to select the store in the app, but you will be able to complete the process at any store that is on the list.
Frequently Asked Questions:
What if I got an incorrect /  defected / missing parts mail order?
Kohl's acknowledges that mistakes can happen while processing orders.
In such a case, they suggest that you will visit one of the Kohl's stores next to you, and the mistake will be corrected in no time by replacing or refunding your order.
For extra or missing items received, you are requested to call the Kohl's customer service at (855) 564-5705 or use the "Chat" option on Kohl's website.
What is the return items by mail process?
Go to the official Kohl's page and log into your personal account.
Find the order number of the item you have and print the status form of your order.
Then you will have to fill out the company's returns form.
Pack your package in good condition and safe. If possible, try to make it in the same package that it was originally shipped in.
Send it to the store with all the necessary tags to the address indicated in the returns form.
Does Kohl's return policy accept order exchanges by mail?
At this time, the answer is no: Kohl's does not accept exchanges of sizes/colors or other exchanges by mail, and exchanges can be made in one of Kohl's stores.
Kohl's Holidays return policy for premium electronic products:
If the purchase of these products took place between November 1 to December 25, they can be returned until January 31 with the original package in which they were sold and with the original receipt.
On the other hand, the measures that have been taken regarding the current situation of the pandemic, returns in physical stores may not be possible in many cities for security reasons. So most returns and exchanges will be made online via mail.
What is the timeframe for Kohl's returns?
The Kohl's return Policy accepts a 180 days return from purchasing, except for
premium electronics
which must be returned within 30 days from the date of purchase.